To Rocky from #RockyforMoms
This is a message I recorded for Sylvester Stallone, aka Rocky, asking him to box with me, as I want to be a Rocky for Moms and show them that I'm willing to fight for them. I've asked him to run with me up the stairs in Philadelphia to help me encourage other women to break free from their boundaries, push past their limits and overcome their fears.  Because if I can do it, they can too.  Here is the video:

And here is the letter…
Dear Sylvester Stallone,
My name is Lisa Traugott, I'm at 42 year old mother of two on American Grit and I'm your biggest fan.  I grew up on Rocky.  When I was a kid, I like the fighting parts and the love story between you and Adrian.  I loved Mr. T as Clubber Lang.  He was so scary and mean and I remember being shocked to learn that even Rocky was afraid sometimes.  But you fought back and that's what was so great.  My brother and I used to reenact that scene, "You ain't so bad! You ain't so bad!  My mother hits harder than you!"
When I became a woman, the Rocky movies took on new meaning for me.  I remember on 9/11, my father worked in New York City and watched the planes crash into the World Trade Center from his office window.  We didn't know if there would be more attacks or how he'd get home to us, but he did.  That night I couldn't sleep and Rocky was on.  And I was reminded that even though we were knocked down, as a nation we would rise up again stronger than before.
A few years ago I felt beat up by life.  My marriage was failing, our business was failing, and my doctor told me I was borderline obese.  The story could have ended there but it didn't.  I entered a bodybuilding competition I lost 50 lbs. and fixed my messy life in the process.  After that I decided I was going to do everything I ever wanted but was afraid to try.  I jumped out of planes, wrote a book called She's Losing It! and even tried pole dancing!  Through it all I kept bodybuilding and training until one competition, three years later, I finally won, because even though some people have a Cinderella Story, my story is the Little Engine That Could.  I never give up.
When I was approached by a casting director to apply for American Grit, a show where 16 civilians compete in military-style evolutions led by real life heroes, I thought they were crazy to ask me!  But I decided to go for it, because I wanted to inspire other women to take risks and show them that if I can do it they can do it and that change is possible, even if you're older, even if you're a mom.
I did American Grit because I want to be a Rocky for Moms.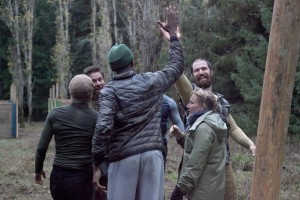 In Rocky Balboa you said to your son, it's not how many times you get knocked down, it's how many times you get back up.  On the very first day, I got scared to repel down a bridge and I cried even.  I was so humiliated.  What would people say about me?  But I remembered that I'm a fighter, and I pushed past my fear and got down that bridge.
My cadre, Noah Galloway, a purple heart recipient who lost his arm and leg in the Iraq War, believed in me and chose me for his team, and our team went on to win the first evolution.
I'm not the strongest or the bravest, but I'll work the hardest to be better.  I'm a fighter and I'm fighting for all the moms out there who feel lost and forgotten and weak.
I know this sounds crazy, but I'm going to ask anyway.  Will you spar with me, teach me how to take a punch and get back up to show women that I'm willing to fight for them and you're willing to fight for them too?  Will you run with me?  Up those steps in Philadelphia so together we can raise our arms high?  Will you stand with me so I can encourage other women to fight for themselves and their kids?
You are Rocky and I want to be a Rocky for Moms.
Lisa 🙂
Please share this if you think someone will find it encouraging.  
Lisa Traugott is a Mom's Choice Award winning writer, fitness blogger, wife and mom of two….and Original Cast Member of AMERICAN GRIT, starring John Cena, Thursdays at 9 PM EST/8 PM CST on FOX!!!
ShesLosingIt.com (c) 2012-2016 Lisa Traugott. All rights reserved. No portion of this blog, including any text, photographs, video, and artwork, may be reproduced or copied without written permission.