Arnold Bikini Competition Update
Only 30 days (yikes!) until the Arnold Amateur Bikini Competition!  The Arnold Sports Festival is the largest multi-sport event in the USA with more than 22,000 athletes competing in more than 75 sports.  I will be competing in the Arnold Amateur bodybuilding competition which has more than 800 competitors from more than 80 nations.
You used to have to pre-qualify to be in the competition but now it's open for anyone willing to stand onstage wearing nothing but a bikini and a smile.  Here's a picture from the first time I did the Arnold, in 2015.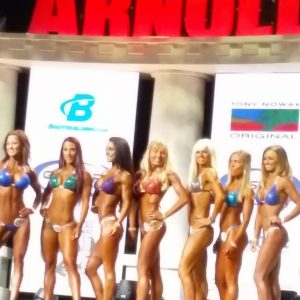 I've been so busy with my brother in town for the holidays, new clients, upgrading my website, editing my next book and starting up homeschooling again that I've had like zero time to blog about it.  But I have been busy training for the competition and all the details that go along with it (scheduling child care, plane tickets, hotel, spray-on tan, hair and make-up appointments and bikini alterations.) Whew!
In the middle of all this I managed to trip over my own two feet and twisted my ankle pretty badly.  I didn't think it was possible to bruise both ankles on the same foot but when it comes to clumsiness, clearly I am an overachiever.  At least it was for a cool reason – my husband and I were dancing.
So for the past two weeks I've been working around my injury, doing upper body workouts and avoiding heavy squats and lunges until this week.  I also gave posing in 5″ heels a rest week, but I'm about ready to put them on again.
When I get ready for bikini competitions I do two workouts a day; the heavy lifting in the morning, and more of a cardio-sculpt routine at night in my home.  My kids and husband sometimes join me, which is kind of fun.  Unless my son decides to use my home gym like a jungle gym.  Then I get a little nervous that he will hurt himself and I politely tell him to go watch TV.
Now that I'm coming down the home stretch I'm getting really excited/nervous/mostly excited to walk on stage.  I'm also mostly nervous/not remotely excited/seriously nervous that the weather in Ohio on February 28th is going to go all Polar Vorex on me.  I hate the cold!!!
Anyway, when I get more time I will write more about female bodybuilding and how to get started.  If you have any questions about it, please feel free to comment on this post.
Stay warm!
Lisa 🙂
Want to Train with Me?
Local to Austin/Round Rock/Pflugerville?  Email me – sheslosingit.net@gmail.com.  I offer personal training sessions at a private gym:  $70 session.  That includes a customized suggested meal plan.  Spaces limited!
If you are interested in signing up for my online personal training programs, click here to order now: SLI Method.  Monthly online training is $199/mo. and includes a customized suggested meal plan plus weekly workouts to do on your own based on the equipment available to you.
Lisa Traugott is a personal trainer, Mom's Choice Award writer, original cast member of FOX/John Cena's "American Grit" and has a monthly fitness column on Bowflex.com.  She won Ms. Costa Rica Sports Model 2017 and her transformation story was featured in Muscle & Fitness Hers, Good Day Austin, Great Day Houston and Austin Woman Magazine.  She blogs at ShesLosingIt.com and is passionate about her clients.
ShesLosingIt.com (c) 2012-2019 Lisa Traugott. All rights reserved. No portion of this blog, including any text, photographs, video, and artwork, may be reproduced or copied without written permission.