American Grit – Episode 1 – My Reaction
In honor of Veterans' Day, thanks to all the soldiers of American Grit who helped inspire people to become stronger. #ShowYourGrit
………
To say it was surreal watching myself last night running through the Pacific wilderness on a TV show hosted by John Cena while surrounded by friends, family, and people who follow my blog, would be putting it mildly.  It still feels like a weird dream…
So I was led by Noah Galloway through these crazy military-inspired obstacles with a lumberjack, Olympic gold medalist and fisherwoman, while this very tall trainer kept fighting with everyone and then John Cena appeared…
Oh well.  I have video proof that this stuff really happened.  Of course the difference between reality and reality TV is the editing.  In real life you have no idea what people are saying in another room, but on reality TV it's all out.
American Grit is the story of 16 civilians divided into 4 teams led by real life elite military heroes called the Cadre.  Each week we do tasks inspired by actual training missions (called evolutions) done in each branch of the military.  The winning team gets immunity.  The three losing teams have to face The Circus: a brutal obstacle course followed by an endurance test that continues until someone gives up or their body gives out.  In Navy Seal fashion, the loser has to ring a giant bell signifying to everyone that he or she can no longer move on.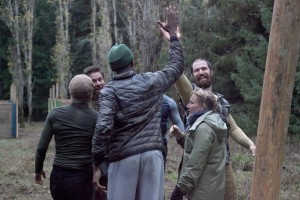 The show was filmed in November and December near Mt. Rainer, Washington.  The first day we arrived it snowed and the weather got worse from there.  As a woman who enjoys the Texas heat, the climate was brutal!  But the experience was so rewarding, even the stuff that's hard for me to watch.  If you haven't watched episode 1 yet, watch it on FOX NOW or Hulu and then check out my video below.  I tell you some behind-the-scenes tidbits and give my reactions to what happened in episode 1.  (The funniest thing was watching my kids' reactions to The Circus.)

Throughout the next 10 weeks I'll be blogging more about my cast mates from the show, in addition to my usual blogging about bodybuilding.  Hope you enjoy!
Lisa 😉
Want to Train with Me?
Local to Austin/Round Rock/Pflugerville?  Email me – sheslosingit.net@gmail.com.  I offer personal training sessions at a private gym:  $65 session.  That includes a customized suggested meal plan.  Spaces limited!
If you are interested in signing up for my online personal training programs, click here to order now: SLI Method.  Monthly online training is $125/mo. and includes a customized suggested meal plan plus weekly workouts to do on your own based on the equipment available to you.
Lisa Traugott is a personal trainer, Mom's Choice Award writer, original cast member of FOX/John Cena's "American Grit" and has a monthly fitness column on Bowflex.com.  She won Ms. Costa Rica Sports Model 2017 and her transformation story was featured in Muscle & Fitness Hers, Good Day Austin, Great Day Houston and Texas Monthly.  She blogs at ShesLosingIt.com and is passionate about her clients.
ShesLosingIt.com (c) 2012-2018 Lisa Traugott. All rights reserved. No portion of this blog, including any text, photographs, video, and artwork, may be reproduced or copied without written permission.