&nbsp
5 Cute Gym Hair Ideas
Some days I just want to wear a hat, not because I'm a hipster or anything, but because my hair looks like a rat's nest after a tough workout.  Do you have this problem too?
I used to lament that men don't have these problems till I started seeing those aforementioned hipsters at the gym sporting manbuns.  It's a brave new world.
Now that I'm on Instagram (follow me!  @LisaTraugott) I've learned that I need to step up my gym hair game beyond the middle of the head ponytail default look.
Here are 5 Cute Gym Hair Ideas (that I was able to replicate at home):
Low ponytail twist.  I like this because it's fast, easy and looks fancier than a regular ponytail.  This was also my go-to hairstyle during budget season at work when I needed to look professional but keep the hair out of my face.
Three layer pony tails.  My friend did this on my daughter's hair one day and I was impressed with how cute it looked and how simple it was to replicate.
Headband.  The other day my 8 year old said to me, "Mom, you know that permanent hair dye you have?  It's not permanent.  The top of your hair looks different."  Ah, from the mouths of babes… Sometimes a headband is the best answer if your roots are showing.
Game of Thrones hair.  Just kidding.  A hairstylist did that one for me for a competition.  She put extensions in my hair and used a crimper to make the soft waves.  Unless you are fighting dragons at the gym, keep this look for Halloween.
Side braid.
How about you?  What's your favorite gym hairdo?
Lisa 😉
Want to Train With Me? Now Accepting New Clients!
If you are interested in signing up for my online personal training programs, click here to order now: SLI Method.
Local to Austin/Round Rock/Pflugerville and want to train with me in person on Saturdays?  Email me at sheslosingit.net@gmail.com.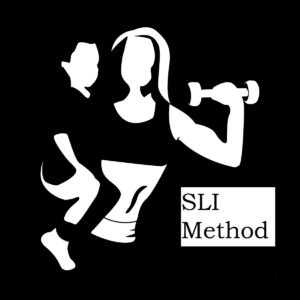 Lisa Traugott is a Mom's Choice Award winning writer, fitness blogger, wife and mom of two….and Original Cast Member of AMERICAN GRIT, starring John Cena, on FOX!!!
ShesLosingIt.com (c) 2012-2017 Lisa Traugott. All rights reserved. No portion of this blog, including any text, photographs, video, and artwork, may be reproduced or copied without written permission.