Trump-Clinton Debate Workout Game
If you have had your head buried in the sand for the past few weeks you may not realize that tonight is the MOST EPIC EVENT EVER if you are a political nerd/engaged citizen about to experience the first debate between Hillary Clinton and Donald Trump.  I daresay it will be HUGE.  (Sorry.  I went there.)
The first time I was able to vote in a presidential election the year was 1992 and the debate was between Bill Clinton, George H.W. Bush and Ross Perot.  Third party candidates almost never qualify to make it to the debate stage, so it was really interesting to see how it would impact the race.  At least it was interesting to me and a handful of other students watching it in the common room.  The rest of the Gen X crowd was playing beer pong.
Apparently it's always been tough to motivate our youth to vote.  Doritos is trying to motivate Millennials in a really creative way.  At some of their vending machines it asks students if they are registered to vote.  If the student answers no they receive a special silver bag filled with cardboard pieces instead of chips that essentially says 'If you don't make choice a choice will be made for you…"  Which is really quite brilliant.  Here's the ad:
Just coming back from my 20th class reunion, I feel the urge to rock the vote.  So here's a drinking game to play during the debates tonight.
OK, I lied.  Here's a workout game to play during the debate tonight.(It's a fitness blog yo.)
Clinton-Trump Workout Game
Anytime this happens…. Do this…..
Hillary is asked about her emails – Squat until the questioning is over.  You'll both feel the Bern after about 30 seconds.
Trump tells a lie –5 burpees.  According to a recent article by the Washington Post, Trump lies an average of every 3 minutes and 25 seconds, so make sure you have a towel nearby to mop up all the sweat.
Hillary calls Trump "unfit" – 20 seconds of flutter kicks.  This ab exercise will make just about anyone feel unfit.
Trump says "crooked Hillary" – 10 Arnold presses.  It's like a shoulder press, but then you twist your arms around and touch your elbows together.
Trump says "I'm going to build a wall" – 30 seconds of mountain climbers.  'Cause that's about how long it will take for someone to climb over said wall if it ever does get built.
"And Mexico will pay for it" – Just laugh out loud.
Anytime you hear:
"Radical Islamic Terrorists" – 20 push ups
"Basket of Deplorables" – 15 lunge jumps
"Integrity," "Transparency," or "All Lives Matter" – 15 pop squats
By the end of the debate you should have a good sweat on.  Continue with this workout program for the remaining debates as well and you will be all warmed up should you need to flee the country come November 9th.
And by all means, do exercise your right to vote!
Lisa 🙂
P.S. – If you're serious about getting healthy, but need help getting started, try my S.L.I. Method on my website ShesLosingIt.com.  Only YOU can do the work, but I can give you the tools that I've learned over the past four years about nutrition, exercise and overcoming excuses.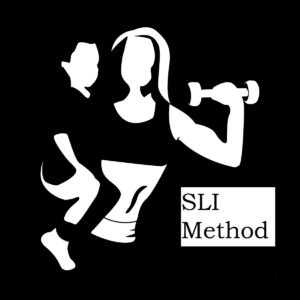 Lisa Traugott is a Mom's Choice Award winning writer, fitness blogger, wife and mom of two….and Original Cast Member of AMERICAN GRIT, starring John Cena, on FOX!!!
ShesLosingIt.com (c) 2012-2016 Lisa Traugott. All rights reserved. No portion of this blog, including any text, photographs, video, and artwork, may be reproduced or copied without written permission.