Got Over My Fear and Tried a Vegan Meal
I am a meat and potatoes type gal.  Well, let's be real – I am a meat and potatoes and chocolate chip cookie type gal.  So words like "vegetarian" and "vegan" make me scrunch up my nose like a five-year-old when asked to eat green beans.  But my fellow blogger friend and figure competitor has been writing about the merits of vegan eating so I thought I'd give it a try.  Well…I'd give one recipe a try anyway.
It was actually good!  It was Caribbean Red Bean, Spinach and Potato Curry, a vegan dish from my cookbook 250 Best Beans, Lentils & Tofu Recipes.
I decided on this recipe because if nothing else I could always eat the potatoes.   But I discovered that it had a tasty flavor and was very filling without any meat.  Even the spinach tasted good in the mix – probably because it was put in at the very end.  If you are in the mood to try new dishes, I highly recommend this one.
Here is the recipe excerpted from 250 Best Beans, Lentils & Tofu Recipes by The Editors of Robert Rose Inc. © 2012 Robert Rose Inc. www.robertrose.ca All rights reserved: May not be reprinted without publisher permission.  Please note, I was given no compensation for this other than a copy of the cookbook.  All opinions are my own.:
Caribbean Red Bean, Spinach and Potato Curry
Ingredients
2 lbs baby new potatoes, halved (or quartered if large) (1kg)
Cold water
1 tsp salt, divided (5 mL)
2 tbsp vegetable oil (30 mL)
1 onion, sliced lengthwise
1/2 hot chile pepper, preferably Scotch bonnet, minced
1 tbsp minced gingerroot (15 mL)
1 tbsp curry powder, preferably Caribbean-style.  (See Tip) (15 mL)
1 tsp ground coriander (5 mL)
1/4 tsp ground allspice (1 mL)
1 can (14 to 19 oz/398 to 540 mL) red kidney beans, drained and rinsed
1/2 cup water or vegetable sock (125 mL)
2 tbsp freshly squeezed lemon juice (30 mL)
2 cups shredded fresh spinach (500 mL)
1.  In a pot, cover potatoes with cold water.  Add 1/2 tsp (2 mL) of the salt and bring to a boil over high heat.  Reduce heat and boil gently until potatoes are fork-tender, about 15 minutes.  Drain well and transfer to a large bowl; set aside.
2.  Meanwhile, in a skillet, heat oil over medium heat.  Add onion, chile pepper, ginger, curry powder, coriander, allspice and remaining salt; cook, stirring, until onion  is softened, about 3 minutes.
3.  Stir in beans until coated with spices.
Pour in water and bring to a boil, scraping up bits stuck to pan.  Reduce heat and boil gently, stirring occasionally, until liquid is almost evaporated, about 5 minutes.
Remove from heat and stir in lemon juice.  Season to taste with salt.
Pour over potatoes in bowl and stir in spinach just until wilted.  Serve hot or let cool.
Yum!
Enjoy!
Lisa 🙂
Train With Me
If you are interested in signing up for my online personal training programs, click here to order now: SLI Method.
Local to Austin and want to train with me in person?  Email me at sheslosingit.net@gmail.com.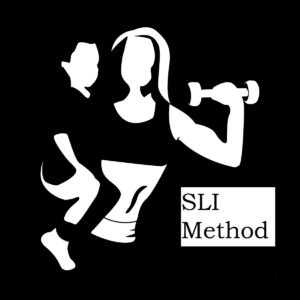 Lisa Traugott is a Mom's Choice Award winning writer, fitness blogger, wife and mom of two….and Original Cast Member of AMERICAN GRIT, starring John Cena, on FOX!!!
ShesLosingIt.com (c) 2012-2017 Lisa Traugott. All rights reserved. No portion of this blog, including any text, photographs, video, and artwork, may be reproduced or copied without written permission.