10 Weeks Until Summer Bikini Season
In a mere 10 (ten) weeks Memorial Day weekend, the unofficial start of summer/bikini season, will be upon us.  Are you ready?
If your answer is, 'Hell no!'  I was like that too.  Summer is my favorite season but when I was overweight (for about half a decade) it just wasn't as much fun, and I'm not just talking about sitting next to some 20something with a bikini while I still wore a maternity bathing suit even though my "baby" was two years old.
Walking in the heat was harder.  Chasing after my kids left me winded and sweaty.  I'd drink sugary coffee drinks for midday energy but when the sugar and caffeine rush wore off I crashed hard.
One summer when my daughter was three and my son was one we took a big family vacation to Hawaii along with my brother and stayed at my father-in-law's time share.  I had tried several yo-yo diets but they weren't sticking and so I did one of those crazy celebrity "cleanse" diets.
I lost 10 lbs. in 10 days (funny how starving yourself will do that) but the results weren't really what I wanted.  I had a skinnier version of my frumpy body.  Also, when friends asked me how I lost the weight so fast I answered, "You don't want to know.  It's really unhealthy."
I felt kind of bad actually.  This wasn't anything I would ever want my daughter to do.  And, of course, I gained all the weight back and more after the trip.
It wasn't until I started bodybuilding that I truly discovered what it means to live a healthy lifestyle.  How to eat clean and do the types of exercises that would really sculpt my body in the vision of what I found to be strong, sexy and feminine.
Most women I know just want to feel comfortable in a normal bathing suit, have enough energy to chase after the kids and have enough freedom to drink a beer on the 4th of July without feeling guilty.  To achieve this, which is absolutely possible- even after kids, even in middle age and beyond- you need to lead a healthy lifestyle.
During the "off season" (the months I'm not preparing for a specific bikini competition) I lead a healthy lifestyle.  Well what does that mean?
I eat whole foods six times per day, exercise 4 days per week and have cheat meals here and there.  During the off season I weigh anywhere between 115 lbs. to 125 lbs. (as in this picture taken last week). This weight is very attainable and I don't feel stressed out to maintain it.  You can see I still have muscle tone and I'd feel comfortable swimming in a public pool.
If this is something you are interested in pursuing (what to eat, which exercises to do at home, how to stay motivated) and you need a little help putting it all together, then the S.L.I. Method can help you reach your goals.  I designed it specifically for women who wanted to learn the basics but couldn't afford a gym membership or personal trainer.  It's basically everything I learned spending thousands on bodybuilding distilled down into a simple format.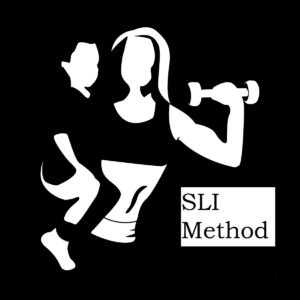 It includes a meal plan, 24 workouts, a fitness video library and lots of tips, tricks and motivational videos.  It's like if you had a good friend who lost 50 lbs. and you asked her how she did it and then she told you everything.  (Sign up here:  S.L.I. Method)
Some people prefer more customized approaches.  Some of my clients have access to a gym but live in different states or countries then me.  So for $125/month I prepare a personalized meal plan based on their goals and preferences and weekly exercise routines based on the equipment in their gym or home.
And if you're local to Austin/Round Rock/Pflugerville and want to train with me personally, send me an email at sheslosingit.net@gmail.com.  My rate is $249/5 sessions.
It takes time and consistent effort, but I'm living proof that you can have the strong healthy body that you want.  Five years ago I was at the end of my rope with yo-yo diets.  I discovered bodybuilding and kept the weight off ever since.  I shared my transformation story with the world.
Are you ready to write your own transformation story? 
Lisa 🙂
Lisa Traugott is a Mom's Choice Award winning writer, fitness blogger, wife and mom of two….and Original Cast Member of AMERICAN GRIT, starring John Cena, on FOX!!!
ShesLosingIt.com (c) 2012-2017 Lisa Traugott. All rights reserved. No portion of this blog, including any text, photographs, video, and artwork, may be reproduced or copied without written permission.