&nbsp
The Battle Over Valentine's Day
I was standing in line, dutifully purchasing Minions Valentine's Day cards and pink cupcakes for my son's school party when the cashier just went off on a rant.
"What's the big deal about Valentine's Day?  I mean, I'm working.  It's no big deal.  And probably the restaurants are all booked and expensive.  Why can't people just hang out!?!  I mean, I have a boyfriend, but we're not doing anything!!"
It made me realize just how married I am.  I can't remember the last time I was that worked up over Valentine's Day.
Don't get me wrong:  I'm one of those wives who requires flowers and I don't care that it's a "made-up" holiday and florists raise prices faster than Uber at the Super Bowl.
But for the past five years that I've been bodybuilding, Valentine's Day always falls during some stage of my competition prep, so the last thing I want to do is eat out or work my way through an entire box of chocolate by myself within an hour.  Hypothetically.
When I was engaged sans children, Valentine's Day was way fun and involved Victoria's Secret.  But with kids?  When any moment a wee-one could come knocking at the door the last thing I want to deal with is a costume change.
"Fifty Shades Darker" comes out tomorrow, but would require a babysitter.  Also, I'm still annoyed that Charlie Hunnam got replaced by Jamie Dornam.  #NotMyChristian
But I do have to say being single on Valentine's Day sucks.  When I was in college and got dumped over Christmas every holiday's sadness was magnified.  Because not only was I alone for Christmas, but also New Years, my birthday and Valentine's Day too.
I made the best of it though.  I invited some other single friends over to drink cocktails, eat the chocolates and then stomp on the heart box.  We also pinned up pictures of our ex-boyfriends on the wall to play pin-the tail-on-the-ass.  But mostly there were chocolates and tears.
Now that I'm a happily married and a mom, I'm kind of agreeing with that worked up cashier.  It would be awesome to just sit on the couch and watch "Beachfront Bargain Hunt" on HGTV with my man.
As long as he brings me flowers.
How about you?  Is Valentine's Day a big deal or not so much?
Lisa 🙂
If you're serious about getting healthy, but need help getting started, try my S.L.I. Method on my website ShesLosingIt.com.  Only YOU can do the work, but I can give you the tools that I've learned over the past five years about nutrition, exercise and overcoming excuses.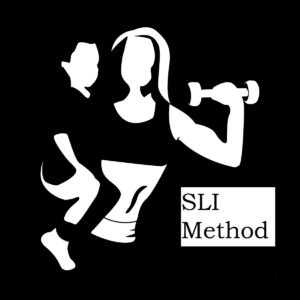 Lisa Traugott is a Mom's Choice Award winning writer, fitness blogger, wife and mom of two….and Original Cast Member of AMERICAN GRIT, starring John Cena, on FOX!!!
ShesLosingIt.com (c) 2012-2017 Lisa Traugott. All rights reserved. No portion of this blog, including any text, photographs, video, and artwork, may be reproduced or copied without written permission.