Worming Your Way Out of Muscle Soreness
The leg day workouts my trainer likes to bestow upon me are legendary.  Leg Day = DOMS (delayed onset muscle soreness) for at least three days.   But I've figured how to worm my way out of it…the soreness (not leg day.)
Why Do I Hurt?
Let me back up here a minute. Do you know why your muscles hurt after a tough workout? First, people think your muscles grow when you lift weights, but that's not actually the case. When you lift weights you are making little tears in your muscle fibers, breaking them down, which is the part that hurts!   It's during the resting phase after the workout, when the muscle fibers get repaired, that your muscles grow back stronger and larger.
Beyond tearing, a second cause for soreness is lactic acid buildup. Ever felt a little nauseous after running or doing heavy leg presses?  That's because strenuous exercise can cause lactic acid to builds up in your muscles, causing them to have painful cramps.
Third, sometimes you get knots in your muscles, not just from lifting weights, but also from typing on a computer all day in a repetitive motion and just being stressed out. All the muscle fibers are supposed to go in the same direction. A knot then, is when the muscle fibers get tangled up and stuck in a "contracted" position.
OK, so muscle tears, lactic acid buildup and old fashioned knots cause soreness.  How do you fix this pain?
You've probably seen foam rollers at the gym. The Original Worm is a roller too, but instead of being a solid foam cylinder, it is comprised of four rubber balls inside a neoprene casing.  So it's like combining a foam roller with massage balls to give you one heck of a self myofascial release.
What's Myofascial Release?
That's fancy for giving yourself a massage using pressure points.  Let's say you have a knot in your lower back. You lie down on The Worm and roll on it until you find the most tender spot in your back. Then press all your body weight against that spot (the knot) and hold that pressure for 30-60 seconds. This will signal the GTO (golgi tendon organ) that it should stop contracting the muscle fibers and should relax them instead, allowing for more flexibility and range of motion.
A traditional foam roller can be tricky to use because it is pressed against your spine. The Worm gets around this issue because rather than a solid block it has four separate balls with spaces between them to accommodate for pesky things like your spine 🙂
Are you a runner? Chances are your calves have lactic acid buildup, which causes muscle cramps and inflammation. By rolling your calves against The Worm directly after your long run, you break down this buildup and help the fluid to drain out of your muscle tissues. (Because being able to walk after running a marathon, or completing a leg day workout designed by your sadistic trainer, is a wonderful thing.)  It's also great for stretching out your IT band.
As a bikini competitor, I have to practice in my 5″ posing heels a lot.  Feet were not designed to balance on 5″ heels.  So I found the foot massage aspect of it pretty appealing.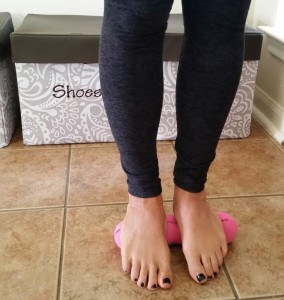 I also used it on my drive to Dallas last weekend to relax my shoulders and under my neck while reading.
The nice thing about using a foam roller, is that it saves you time and money from getting a pricey sports massage. The nice thing about using The Original Worm is that it is compact and portable so you can sneak it into the office or give yourself a mini massage in the car.  (Good things come in small packages.)
It comes in two colors (black or pink) and two sizes (6.3 or 7.0) and retails for $24.99 – $33.99. I went with the small one because I'm short and pink because I am currently in a girlie phase.  You can purchase one here:  The Original Worm.
I highly recommend rolling your muscles with The Original Worm. It increases blood circulation, reduces inflammation, and gets rid of muscle soreness, which gets you back in the gym faster to make those gains.  And work those glutes…
Lisa 😉
This is a sponsored post.  All opinions are my own.
Lisa Traugott is a Mom's Choice Award winning writer, fitness blogger, wife and mom of two.  Her book, "She's Losing It!"  is available at Amazon.com.
ShesLosingIt.com (c) 2015 Lisa Traugott. All rights reserved. No portion of this blog, including any text, photographs, video, and artwork, may be reproduced or copied without written permission.