The Divorce Diet
My friend is getting a divorce and she's starting to lose weight even though the papers aren't even signed.  The Divorce Diet has to be one of the most brutal (yet effective) weight loss plans known to couples.  It seems to affect both men and women going through it.  I've often wondered why this happens.  After all, a divorce is one of the most stressful events a person can experience, so shouldn't their cortisol levels be through the roof?  Why then are they losing weight?
According to James Harris, a psychologist and manager of the Eating Disorders Program at Presbyterian Hospital of Dallas, "People who are going through a divorce will tell me, 'I forgot to eat. It's never happened to me before in my life.'  When you have a trauma like a divorce, there's a physical reaction. You're not sleeping, you're skipping meals and you're feeling stressed." Trauma and grief from a death or divorce affect the limbic system, "the seat of emotion" in the brain and that can shut down the appetite.  (Source: singleedition.com.)
While I am happy to say I have not experienced the Divorce Diet (thank God,) I have experienced the Break Up Diet.  I was 19, a sophomore at Muhlenberg College and I was in love, love, LOVE, with this boy, we'll call him Andrew*  (*Totally, not even remotely his name.)
Andrew didn't love me back.  I cried and cried and then went to rehearsal where I played Irina in Three Sisters, and cried some more only in a corset.  I avoided the cafeteria; I would see him there.  I didn't want to eat at all.  Evenings were spent with my friend, Mitch, at the local park.  I would eat chocolate and cry about Andrew and he would just listen.  It started small.  Just a candy bar.  By the end of the month I was waiting at the park bridge with a pound bag of M&M's and Mitch just looked at the bag, looked at my puffy eyes, and said, "Oh, sweetie, just get over him.  Trust me, he's not that great."
Despite the bags of chocolate the pounds came off.  At 110 lbs nothing
fit me anymore. I lost my first love but gained a hot body; I'd rather have my love.  A dark cloud hung around me, a heavy weight always seemed on my chest and I never smiled because nothing, nothing, nothing, nothing, NOTHING could ever stop the pain and the hurt that I felt.
Except Sexy Hot Man.  Sexy Hot Man was a 6'2 tall, dark and handsome Italian guy I met over the summer.  He was 23.  And he a medical student at Temple University.  I was so wrapped up in my Andrew drama it never occurred to me that there were other boys out there.  Men out there.  A Sexy Hot Man to be more specific.
He came to see me in my show.  It was snowing outside so he was wearing his long navy wool coat over his deliciously chiseled body.  I was wearing a skirt and heels (perfect attire for walking in the snow) and was holding two dozen pink roses.  My hair, which had been pinned in a bun, now fell in ringlets down my back and I had my stage make up on.  Our eyes connected across the room and it was electric.  It was the first time I wasn't thinking of whatshisname.  It was the first time in my life when I felt beautiful.
We walked in the night air and snowflakes landed on his black locks.  I was holding on his arm to steady myself over the icy brick walkways.  (Yeah, we'll go with that "icy walkway" reason.)
"I love reading your letters, Lisa.  They're so funny." (Yes, we wrote letters before the days of the internet.)
"Funny?"  I was shocked.  All I ever wrote about was how much I loved Andrew and how hurt I was that he dumped me.
"It's the way that you write things.  Like, the other week you wrote, 'So I came home, thought about my life and threw up.'"
"I really did that!"
"I believe you.  But it's funny.  You're just quirky.  Quirky-funny.  Only…"
"Only?"  We stop in front of the bell tower.  Students walk past us, exhaling smoke from their mouths.
"Only, when I asked you why you broke up with Andrew you wrote because he didn't love you."
"It's true," I whispered, tears pricking the backs of my eyes.  The snow is falling down around us.  The bell tower is illuminated in amber light, making me feel somehow transported in time.
"Lisa, you don't say that," he said lifting my chin with his index finger.  His hand was warm from his pocket.  My tear rolled onto it. He shook his head a little, a smirk hinting in his face.
"Well, what should I say?"  His green eyes are smoldering and everything is quiet and despite the mounds of snow I suddenly feel warm.
"If someone asks why you broke up you say, 'Because he's an idiot.'"
Oh my. 
So the Sexy Hot Man medical student cured my Break Up Diet and I began to smile again.  And eat again.  It didn't last because, well, he was an idiot, but he was a great transition person for me.
If you are going through the Divorce Diet or Break Up Diet right now, I'm sending you good vibes to get through it.  Surround yourself with friends and take however much time you need to heal.  And who knows?  You might meet a totally cool transition person in the process.
Lisa 🙂
P.S. – If you're serious about getting healthy, but need help getting started, try my S.L.I. Method on my website ShesLosingIt.com.  Only YOU can do the work, but I can give you the tools that I've learned over the past four years about nutrition, exercise and overcoming excuses.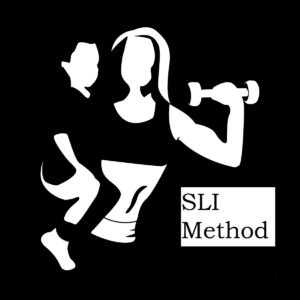 Lisa Traugott is a Mom's Choice Award winning writer, fitness blogger, wife and mom of two….and Original Cast Member of AMERICAN GRIT, starring John Cena, on FOX!!!
ShesLosingIt.com (c) 2012-2016 Lisa Traugott. All rights reserved. No portion of this blog, including any text, photographs, video, and artwork, may be reproduced or copied without written permission.