Transformation Client – Karelin Guinn
Five years ago I entered my first bodybuilding competition and it changed my entire life.  During preparation I learned about nutrition, strength training, time management and how to push through mental blocks and excuses holding me back.
My trainer, Daniel, was really tough on me but delivered results, and after the experience I decided to become a personal trainer to help other women get in shape.  (I also wrote a book about it called "She's Losing It!").
Well, now it seems like it's coming full swing.  While I've helped lots of clients in the gym and online, Karelin Guinn is my first client doing a bodybuilding transformation competition, and I'm so thrilled to be her trainer.
Karelin is a dynamo.  She's the mother of five (5!) and grandma of two, plus she has her own hairstyle business and is a travel agent.  Despite her many and varied time commitments and responsibilities, she decided to finally make some time for herself.
She told me she wanted to do a bodybuilding competition.  The original goal was the Naturally Fit show in June but she soon found out it was the same date as her oldest daughter's high school graduation, so we decided to go for the Physique Showdown in April (!!!) instead.  
In four months she lost 18 lbs. and almost 18 1/2 inches and it didn't stop there.  Soon after she began seeing results her husband asked me for a diet, so I wrote up a meal plan for him.
Then her middle daughter, Karyna, decided that she wanted to do the teen bikini division and athletic divisions too.
Her other kids are inspired by her dedication too and now the whole family is working out together.
Moms on her son's baseball team began to notice that she was packing salads and chicken instead of eating out after the games, and they were inspired by her dedication.
Karelin was up at 5 am to train with me twice a week and followed an exercise schedule I gave her and her daughter to do on their own the other days.  They came to my house to practice their poses and her daughter worked on choreographing her fitness routine for the athletic division.
A trainer is only as good as her clients.  No matter where they place at the competition tomorrow, they have already won.
Here's a post Karelin wrote about her experience…
Good luck at your competition tomorrow ladies! I'm so proud of you!!!
Lisa 🙂
If you are interested in learning about my online personal training programs, click here to order now: SLI Method.  Local to Austin and want to train with me?  Email me at sheslosingit.net@gmail.com.
Lisa 🙂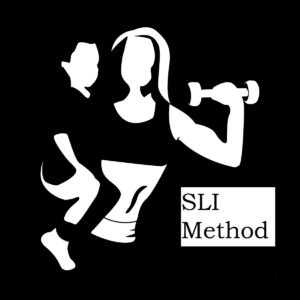 Lisa Traugott is a Mom's Choice Award winning writer, fitness blogger, wife and mom of two….and Original Cast Member of AMERICAN GRIT, starring John Cena, on FOX!
ShesLosingIt.com (c) 2012-2017 Lisa Traugott. All rights reserved. No portion of this blog, including any text, photographs, video, and artwork, may be reproduced or copied without written permission.