Competition Prep Update
It's 17 weeks until my next competition and I'm feeling something I haven't felt in a long time:  joy.
For much of last year my competition prep seemed like a chore, a necessary evil to stay healthy.  But my heart just wasn't in it.
The combination of my mother's passing after battling cancer, personal life tensions, and the hard left into the craziness of being cast on a national reality-TV show left me reeling.
I took time off from bodybuilding, sorted through some other things in my life, and evaluated what I wanted in a workout.  After all, bodybuilding isn't the only game in town.
To help raise money for a friend's son who was paralyzed in a car crash, I trained for a half marathon.  (You can read about it here:  #JJwillWalk).  During the course of that I realized something:  I don't like running, lol.
Also around this time I began training a client for a transformation competition.  Her daughter, seeing her mom's progress, got inspired and she decided to enter the teen sports model competition in the same show.
Training them, watching them work so hard towards their goals and get excited about all the changes their bodies were making just through diet and exercise was (and is) really inspiring.  And giving them their first posing lesson was beyond fun.  It made me catch their enthusiasm.
Even though bodybuilding shows started up a few weeks ago, I'm not rushing to enter every single one this year.  I'm giving myself months to really work on my physique, focusing on my legs this time around. Yes, I'll be exercising all parts, but I find that when I really put forth effort in one key area it's more fun because it becomes a challenge to monitor my results.
My trainer, Robin Johnson, is pushing me really hard with heavier weights and triple sets and I'm actually enjoying it.  The other day I noticed that it was the first time in a long while that I felt like myself again.
I'm negotiating with him to do some Facebook live posts of my competition workouts around May.  He's still not totally on board, but we'll see.
Anyway, it's good to be back to my old self with some new motivation.
How about you?  Are you working on any fitness goals?
Lisa 🙂
If you're serious about getting healthy, but need help getting started, try my S.L.I. Method on my website ShesLosingIt.com.  Only YOU can do the work, but I can give you the tools that I've learned over the past five years about nutrition, exercise and overcoming excuses.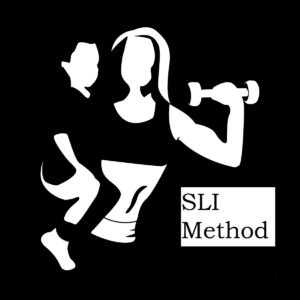 Lisa Traugott is a Mom's Choice Award winning writer, fitness blogger, wife and mom of two….and Original Cast Member of AMERICAN GRIT, starring John Cena, on FOX!!!
ShesLosingIt.com (c) 2012-2017 Lisa Traugott. All rights reserved. No portion of this blog, including any text, photographs, video, and artwork, may be reproduced or copied without written permission.