Avoiding The Post Competition Blues
When you train for a bodybuilding competition you spend weeks, if not months, dedicating time, money and energy into it.  It can manage to seep into all aspects of your life.
Three weeks before any bikini competition I've been known to have stress dreams, ranging from semi-traditional (I show up late, run on stage and forget all my poses) to kind of funny (I can't stop eating a giant Hostess apple pie that keeps growing and I'm afraid my trainer will walk in and bust me) to downright bizarre (I'm at my mom's house in New Jersey and someone calls to me that Arnold Schwarzenegger is in a parade and I run through the streets to try to find him).
By the final seven days before the competition (called 'peak week') I can be a certifiable mess.  I'm carb-depleted, tired, sore, thirsty and ready for the show to just be over.
And then after all the weeks of endless weight lifting, cardio, posing in heels, trying on posing suits and eating more asparagus and ground turkey than any human being should ever eat, the show is over and you're left with unlimited time and freedom.
It's 4 a.m.  Time for cardio…or rather, time to roll over and go back to sleep!
Everyone is splitting dessert at the restaurant except me…'cause I'm not on show prep anymore and will eat the whole dessert by myself!
Well, that's how it typically goes for me.  I usually put back on about 15 lbs. in the 'off season' (time I'm not training for a specific bodybuilding competition,) reduce my training to 2-3 days per week, and catch up on things like filing the business receipts and vacuuming.  My off season also usually comes with a side order of melancholy, trouble sleeping and unfocused energy.
But not this time.
This off season is different because I'm choosing to make it different.
First, I'm already focused on my next goal, which is the international competition in Costa Rica in May (exact date TBA).  Instead of doing the model division I'm going back to the bikini division, where I'm more comfortable.  When the specific date is announced I will subtract four weeks from that date and do a local NPC or NFF show to get a practice competition in before doing an international one.
Second, I've decided to maintain my workout level to 5 days per week.  When you don't lift heavy as much as before (surprise!) you lose muscle mass.  As a woman of a certain age, this lean muscle mass deterioration happens faster, so why would I even put myself in the position to lose what was so hard for me to gain in the first place, right?
Also, exercise truly makes me feel great.  It lowers my anxiety levels and makes me sleep better at night.  I'm one of those people who thrives on a good routine and for me that means getting an hour of "me time" in first thing in the morning before the demands of life come crashing in.
Finally…food.  OK, I'm still enjoying the cheat meal phase of the off season.  These are the foods I've been craving/eating the most:  chocolate, dairy, carbs and some alcohol.  But I've only gained back nine pounds instead of my traditional 15, and that's AFTER Thanksgiving and a Disneyland vacation with no gym access, so I'm ok with that.  I'm back to drinking water, I'm pretty much done with wine, and my dairy choices have switched from cheese like Alfredo sauce over pasta back to non-fat Greek yogurt with pineapple, so I'm moving in the right direction.
My goal is to maintain my weight at 115 lbs. through the holidays and then get back to 110 lbs. thereafter.  My birthday is February 2, so I plan to eat my cake and then start the competition prep diet the next day.
Having a major goal in place and maintaining a healthy (but less strict) meal plan is really helping me out.  It even makes those things I've been delaying (vacuuming and filing) not nearly so tedious to get through.
I've got six months to prepare for Costa Rica.  I'm ready to use this time wisely.
How about you?  Are you working on any big fitness goals?
Lisa 🙂
P.S. – If you're serious about getting healthy, but need help getting started, try my S.L.I. Method on my website ShesLosingIt.com.  Only YOU can do the work, but I can give you the tools that I've learned over the past four years about nutrition, exercise and overcoming excuses.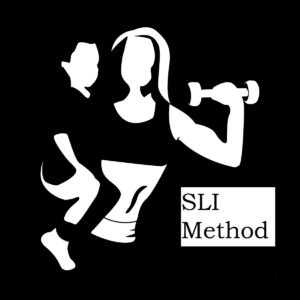 Lisa Traugott is a Mom's Choice Award winning writer, fitness blogger, wife and mom of two….and Original Cast Member of AMERICAN GRIT, starring John Cena, on FOX!!!
ShesLosingIt.com (c) 2012-2016 Lisa Traugott. All rights reserved. No portion of this blog, including any text, photographs, video, and artwork, may be reproduced or copied without written permission.